Problem statement
The Learning & Organization Development department of a company was looking at simplifying & optimizing their induction process for new joinees.
Given the fact that the company had multiple locations, spread across India and the world – ensuring a uniform induction was a key area of concern.
Added to this, was the fact that the current program was completely dependent on people and need extra training for the trainers at each of the locations. This in turn led to major dependencies on people, schedules and was an organizational nightmare.
Key issues were
People dependency for basic induction
Organizational nightmare of Induction programs, given differential intakes (multiple times, during the year)
Ensuring that key aspects of the program are assimilated (key learning points)
And mostly importantly, consistency in learning, across locations, irrespective of person delivering the induction
The solution
Completely re-imagined the entire online induction program, with voices over, animated video based content that engaged users.
Built a custom game that can be played at the end of each section, to ensure that key learning points are assimilated properly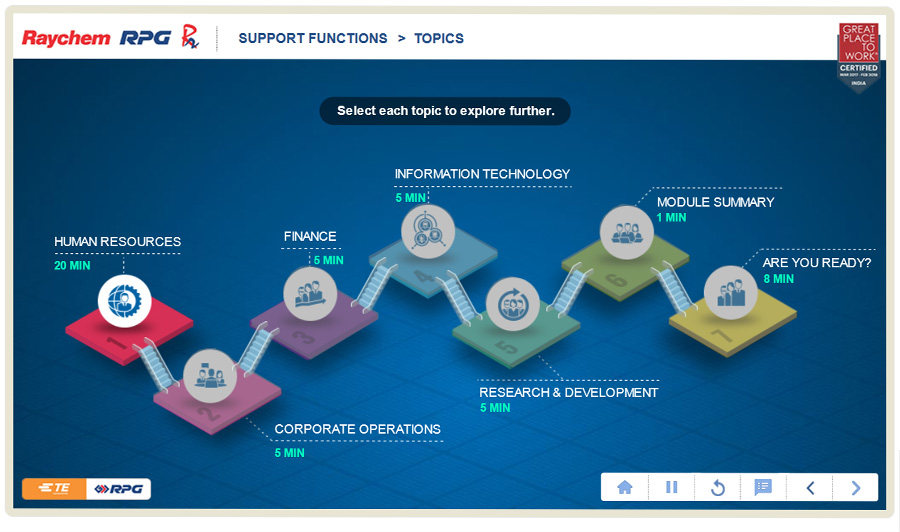 The impact
Completely online induction, accessible via the intranet
Completely secure solutions, hosted in an internal environment, behind firewalls
Game-based learning based on learning nuggets
Interactive modules, focusing on self-learning
Ability to change key aspects of the modules